Archive for November 2010
Book reviews: Institutional change, workers and welfare, the rise of the unelected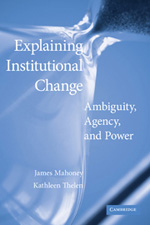 In the current issue of Governance (23.4, October 2010), Jennifer Widner reviews Explaining Institutional Change: Ambiguity, Agency and Power, edited by James Mahoney and Kathleen Thelen — a collection of "thoughtful theoretical essays . . . and lively and interesting case studies" about institutional change. Read the review.  Kathleen Bruhn reviews Workers and Welfare: Comparative Institutional Change in Twentieth Century Mexico by Michelle Dion: "an insightful and original analysis of the development of social insurance policies in Mexico."  Read the review.  And Adriejan van Veen reviews The Rise of the Unelected: Democracy and the New Separation of Powers by Frank Vibert: "a strong picture of the recent rise of an entire branch of unelected institutions."  Read the review.
Brazil and Ecuador: Similar institutions, but different policy outcomes
Brazil and Ecuador have similar electoral, partisan and presidential institutions, but they produce very different policy outcomes.  Brazil does better at responding to shocks and maintaining stability, while Ecuador is prone to deadlock or erratic policy changes.  What explains this different in performance?  In the current issue of Governance, Carlos Pereira and Andres Mejia Acosta identify other critical variables, such as those affecting the ability of policymakers to make credible long-term political deals. Read the article: Policymaking in Multiparty Presidential Regimes: A Comparison Between Brazil and Ecuador.
New book by SOG member: Ideas and Politics in Social Science Research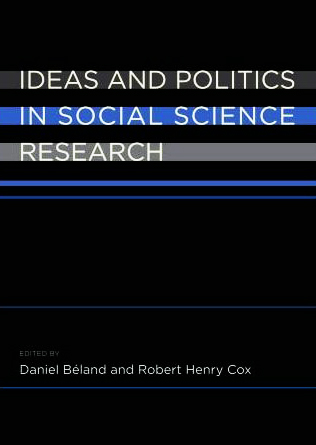 SOG is the IPSA Structure and Organization of Government Committee, the sponsor of Governance.  SOG member Robert H. Cox of the University of Oklahoma and Daniel Beland of the University of Saskatchewan are co-editors of a new book from Oxford University Press, Ideas and Politics in Social Science Research.  Frank Dobbin of Harvard University says that the book "provides cutting edge theoretical tools for conceptualizing ideas in the policy process, and illustrates these with a series of compelling case studies."  Read more about the book.
Governance co-sponsors transparency research conference
Governance is a co-sponsor of the First Global Conference on Transparency Research to be held at Rutgers University on May 19-20, 2011.  This is the first large meeting of its kind to bring together leading scholars from throughout the world to collectively advance our understanding of the impact and implications of transparency policies that involve governments.  Three organizations — Canada's International Development Research Centre, the World Bank Institute, and the Open Society Institute — will providing support for travel for some participants from developing countries.   Read the call for papers and details about travel support.
The rise and fall of US carbon taxes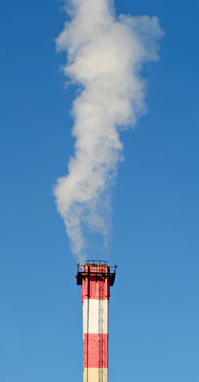 Most experts agree that the best way to control greenhouse gases is through taxation or cap-and-trade systems, but the US political system is notoriously resistant to such policies.  In 2008-2009, though, Barry Raab says there was a "short-lived revolution" in policymaking, as policies such as these briefly seemed politically viable.  In the current issue of Governance (23.4, October 2010) Raab asks why these policy options suddenly gained support, and examines the "rapid and decisive reversal" that followed. Today, says Raab, there is still "a steady trend" in favor of policy responses that "minimize, delay, or obscure cost imposition as an approach to greenhouse gas emissions reduction."  Read the article: The Aversion to Direct Cost Imposition: Selecting Climate Policy Tools in the United States.
SOG conference this week in Berlin
SOG will hold its next conference in Berlin this week, on November 4-5, 2010.   SOG is the International Political Science Association's Research Committee on Structure and Organization of Government (RC 27) and the sponsor of Governance.  The conference's hosts are the Hertie School of Governance and the Center for Social Investment, Heidelberg.  The theme for the conference is Crisis as Opportunity: States, Markets and Communities in Turbulent Times.  More conference details here.