Book reviews: financial management, public participation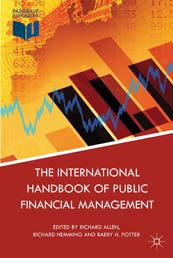 In the current issue of Governance, Allen Schick reviews The International Handbook of Public Financial Management, edited by Richard Allen, Richard Hemming, and Barry Potter.  "The handbook is forthright in describing the many reforms that have energized PFM practices in recent decades," Schick says.  But "By their disregard of politics, almost all of the Handbook's dream team of authors purges PFM of political content and influence." Read the review.
And Alvin Camba reviews Participatory Governance in the EU, by Karl-Oskar Lindgren and Thomas Persson.  The book uses a case study of chemical regulation to determine whether civil society participation enhances the formation of a democratic EU.  There are difficulties with argumentation and evidence, Camba says.  Still, "this is a fresh and timely contribution to the governance literature."  Read the review.