Book reviews: Blood oil, China's civil service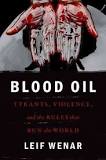 In the current issue of
Governance
,
Frank Vogl
reviews
Blood Oil: Tyrants, Violence, and the Rules that Run the World
by
Leif Wenar
.  Vogl says that the book "builds a compelling case for a trade boycott on oil, gas, gold, and other mineral exports from some 30 nations run by corrupt regimes."  Read the review.
And Lina Vyas reviews Governing Civil Service Pay in China byAlfred M. Wu.   Wu "offers an incisive examination of how the government has attempted to shape a contemporary civil service system that in turn would improve state capacity and government legitimacy," Vyas says.  Read the review.