Europe's migrant crisis: A snapshot

Governance will publish a commentary in its January 2016 issue by Susan Martin on current challenges in coordinating national migration and refugee policies. This note from Nancy Roberts provides a view of the situation in Budapest last week: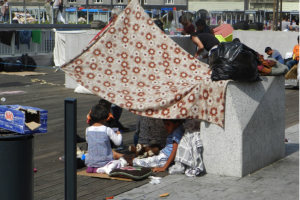 By now most people are aware of the refugee crisis in Europe.  I saw its human face when four of us from the International Public Management Network Conference went to Koleti Railway Station in Budapest to find thousands of people, many of them families with small children, stranded with little food, water, or support.  Only one NGO, the Green Cross, and two medical personnel were on site to deal with the throngs of people. Refugees were caught in a catch 22. By EU law, they are required to register as asylum seekers in the first EU country in which they arrive, but their registration would have required them to stay in Hungary, a country that made it quite clear it didn't want them.  So using any means possible-trains, buses, and their own two feet-refugees managed to get to Germany where they are welcome.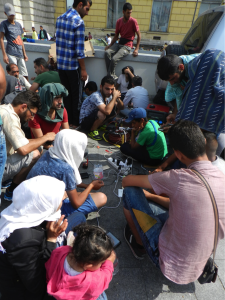 Despite the Hungarian government's inhuman treatment of the refugees, I saw acts of human kindness.  A few individuals distributed food, water, and baby clothes and some students handed out paper and crayons so the children could draw. International news agencies allowed refugees to recharge their cell phones at their hookups-the only lifelines the refugees had to family and friends. While EU governments debated on what to do about the refugees, self-organizing citizens, especially those in Austria and Germany, sent out pleas for help through Facebook and websites to provide food, clothing, and transport as the refugees arrived. These pictures illustrate the refugees' resilience despite the hardships they endured at the Budapest Koleti station.
Nancy Roberts is a professor at the Naval Postgraduate School in Monterey, CA.  These reflections and pictures are Professor Roberts' and do not reflect the position of the U.S government, the U.S. military, or the Naval Postgraduate School.