New book: Privatized infrastructure in Argentina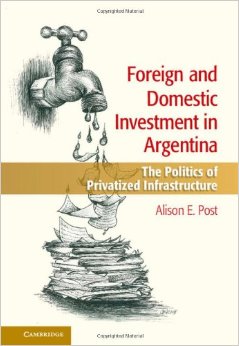 Cambridge University Press has just published Foreign and Direct Investment in Argentina: The Politics of Privatized Infrastructure, by SOG member Alison Post, assistant professor of political science at University of California, Berkeley.  José A. Gómez-Ibáñez says that the book is "must-reading for anyone interested in the private provision of infrastructure services."  Read more about the book.
SOG is the Structure and Organization of Government Research Committee of the International Political Science Association.  It is the academic sponsor of Governance.  The Governance blog and newsletter provides news about new books by SOG members.  Membership includes a subscription to Governance.  Join SOG here.