What does ordoliberalism really require?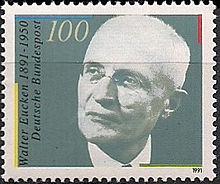 Walter Eucken, a founder of ordoliberalism
The ideas of ordoliberalism, first developed in Germany in the mid-twentieth century, have had a marked revival since the Global Financial Crisis, write Mathias Siems and Gerhard Schnyder in the current issue of Governance.  Commentators from both left and right say that more regulation on ordoliberal principles is needed.  But there is confusion about what ordoliberalism really requires.  Siems and Schnyder clarify the core ideas and show how ordoliberalism can "form the basis for a sounder conception of economic regulation" in the wake of the crisis.  Read the article.