Archive for the 'Blog comments' Category
This draft comment has been prepared for a panel on public management research and the state to be held at the research conference of the Public Management Research Association at the University of Aarhus in June 2016.  Comments and responses are welcome.  See other posts relating to this discussion.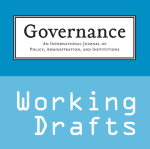 By Donald F. Kettl.  Bubbling in the background of public management research is a huge puzzle: are researchers spending far too little time on the really big questions in the field, because of a growing instinct to drill ever-deeper into ever-smaller questions?
In a 2015 Public Administration Review article, Bradley E. Wright applauds the progress that the field has made in resolving some of its fundamental questions. The reason, he argues, is that the field "has become much more scientific" in the last two generations, because of "increasing rigor in both the qualitative and quantitative research conducted in the field." Drilling deeper with better tools, Wright contends, has helped the field shake loose of the questions from Robert A. Dahl in 1947 about whether the field ever could be truly a science. But in his analysis of a symposium at the University of Michigan this same year, Andrew J. Hoffman points to "a crisis of relevance," especially in ensuring that scholars engage the fundamental questions that matter and write about them in ways that will have an impact.
It's impossible to quibble with Wright's conclusion. The explosion of research in the field's journals—and the increase in the number of highly regarded journals—represents advances that Dahl and other critics of the 1940s and 1950s would scarcely have imagined.  But it's also impossible to ignore the complaints of practitioners and theorists outside the field that public management is missing big trends and the potential for big impacts on big questions. Read the rest of this entry »