Book reviews: The politics of fiscal squeeze, and compliance with EU policies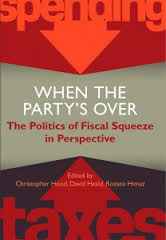 In the current issue of
Governance,
Richard Allen 
reviews 
When The Party's Over: The Politics of Fiscal Squeeze in Perspective
, edited by
David Heald
,
Rozana Himaz
, and 
Christopher Hood
.  Fiscal squeeze is "the amount of political effort that is put into" retrenchment.  The book challenges "the commonly-held assumption that the financial crash of 2008 and the dramatic policy changes that followed were unique." 
Read the review
.
Juliana Piecha
reviews
The Impact of European Employment Strategy in Greece and Portugal
by
Sotirios Zartaloudis
.  The book provides a "detailed study of the transmission of EU guidelines into national policy."  In Portugal, EU policies provided a window of opportunity for domestic players to advance their agenda.  But in Greece, domestic actors regarded EU policy as "too alien" and responded only when compliance became a condition of financial support. 
Read the review
.